OUR INAUGURAL ISSUE - ISSUE 01, VOL. 01
March 2013
Greetings! Welcome to the inaugural issue of our quarterly newsletter, "TAG Lines". We plan to bring you the latest news along with helpful information and resources. We value your feedback! Please let us know what you think. If you have ideas for content you'd like to see in future issues, do let us know. Remember, "We Work for You!"
We Are NDTO's Service Provider of the Year!

We are pleased to announce that last week, TAG received the North Dakota Trade Office (NDTO)'s "2012 Service to Exporters Award" at the Global Business Connections Conference, hosted by the NDTO and held on Feb. 19th in Bismarck, ND.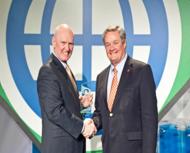 The 2012 Service to Exporters Award is given to the international business resource which has demonstrated an exceptional commitment to supporting North Dakota exporters and increasing the state's overall international business strategy. This year's Award was presented to TAG by Governor Jack Dalrymple (pictured here, right, with Curt Hanson).
Click here to read about TAG's recent work with the NDTO and the Bank of North Dakota!
We're Growing!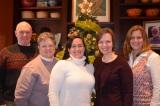 TAG is pleased to introduce you to Sara Heltner. Sara joined TAG in September but is no stranger to us, having worked with us as an intern more than 10 years ago! Sara has hit the ground running and is eager to work with our great partners. Please join us in welcoming Sara to the team!
Read More About Our Trade Finance Professionals
Additional Export Finance Resources for Midwestern Exporters
Ex-Im Bank has recently opened new regional export finance centers in Minneapolis, MN and Detroit, MI in conjunction with the Bank's Global Access Forum to promote small-business exports. The centers are co-located with the U.S. Export Assistance Centers and will provide enhanced access to Ex-Im Bank services. They will also assist local businesses in the region to realize export sales opportunities abroad. The Bank has launched four such centers, starting with Minneapolis last July, then adding Seattle, WA, Atlanta, GA, and now Detroit, MI.

Learn More about Ex-Im's Global Access for Small Business Program
For more information, contact TAG or Ex-Im Bank:
Denis Griffin
Director
Minneapolis Regional Office
Export Import Bank of the U.S.
Tel: 612-348-1213
Email: denis.griffin@exim.gov

John Toles
Export Finance Manager
Detroit Regional Office
Export Import Bank of the U.S.
Tel: 313-230-8832
Email: john.toles@exim.gov
What's the Risk?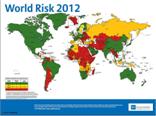 The World's largest insurer, Euler Hermes, produces a bi-annual world risk map and a free weekly export risk outlook which sums up the political, economical and social issues in emerging foreign countries. Visit Euler to view the interactive World Risk Map to see how Euler views global risk, and subscribe to the mailing list here.
You Have Options
As a specialty broker of trade finance and credit insurance, we offer a range of options to help you protect your accounts receivable. Working together with our partners, we can engage the private and public markets to help you find a customized solution for your needs such as: flexible policies tailored to the risks in your portfolio, coverage for foreign content, domestic and export credit insurance, working capital guarantee programs, short-term receivables financing, medium-term financing packages, and unique solutions for large corporates and complex credits.

Some of our partners include:
Atradius
Chartis / AIG
Coface
Euler
Ex-Im Bank of the U.S.
FCIA
HCC
Latin American Underwriters
NorthStar Trade Finance
QBE
U.S. Small Business Administration
Zurich
See examples of recent transactions here.
As always, we value our relationship with you. If we can be of assistance in any way, please let us know.

Kind Regards,

The TAG Team