June 2016
It's hard to believe that we have wrapped up World Trade Month and are headed into Summer! We trust that your June is off to a great start!
TAG Celebrates 20 Years!
We are very pleased to announce that June 1st, 2016 marked the completion of our 20TH YEAR IN BUSINESS! THANK YOU to all of our clients, trade colleagues, and trusted bank partners for all of your support over the past 20 years! Our valued relationships with you are the foundation of our success!
World Trade Month May be Over, But...
We hope that you came away from last month's activities energized about what you learned and are even more committed to expanding your international trade. TAG encourages you to revisit using trade credit insurance as a tool to help you reach your goals. If you are already actively using insurance, perhaps it's time to review your coverage to ensure that your policy is in step with your ever-changing trade activities. Trade credit insurance is unique in that it is one of the few types of insurance that fuels sales expansion. Beyond the widely known risk mitigation benefits of the insurance, there are many reasons why companies put a policy in place. Please see the Euler infographic below for other ways in which credit insurance can support your international and domestic trade. Feel free to contact us for a no commitment discussion about your options in the trade credit insurance market. We can even provide you with competitive quotations at no cost or obligation to you.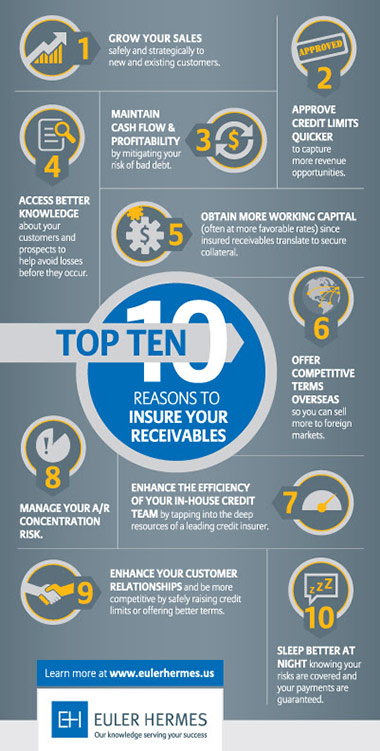 2016 Top Markets Sector Reports
So many opportunities, so little time! Are you trying to determine where to focus your energy in expanding your international trade? The International Trade Administration recently released the second set of Top Markets Reports which provides the latest assessment of export opportunities for U.S. companies in 19 sectors. These sector-specific reports are designed to help U.S. exporters compare markets across borders, access up-to-date industry information, and use market intelligence and data to inform decision-making for generating business abroad.

Ex-Im Bank Country Limitation Schedule Update
As part of your export market analysis, we always recommend that you consult Ex-Im Bank's.
Country Limitation Schedule (CLS) to determine how the U.S. Government evaluates the economic and political risks associated with each country. The most recent update was effective May 11, 2016.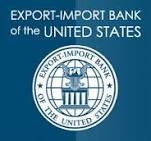 The CLS indicates where Ex-Im Bank is "open for cover" and where Ex-Im Bank is "off-cover." The "open for cover" designation refers to the possibility, rather than the certainty, of Ex-Im Bank support in particular cases. Where the CLS presents an "X," Ex-Im Bank is "off-cover" and is therefore unable to consider approval of routine transactions.
To see the SPECIFIC CHANGES to the CLS, click here.
• Policy-level Country Coverage updates include: Bolivia and Guinea-Bissau.
Note-level changes for 12 countries.

The most recent version of the CLS may be accessed on-line at:
http://www.exim.gov/tools-for-exporters...
"E" Award Winners
Each year, The White House and the U.S. Department of Commerce honor companies that are making a significant contribution to the expansion of U.S. exports. Once again, several of our clients and friends received this prestigious award. Congratulations to all of you! For the "E" Award press release and a complete list of this year's honorees, please click here.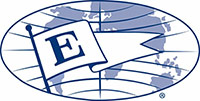 As always, we value our relationship with you. If we can be of assistance in any way, please let us know.

Kind Regards,

The TAG Team
Curt, Leslie, Ursula, Jackie, and Mason

We appreciate your feedback! Please let us know what you think. If you have ideas for content you'd like to see in future issues, do let us know. Remember, "We Work for You!"
Share our expertise
Are you interested in having a representative from TAG speak at your event or make a presentation at your company? Please Contact Us Today!