March 2014
We made it through the Polar Vortex and Spring is in the air (or at least in our imaginations)!

Congratulations to our own Ursula Wegrzynowicz - who was recently re-appointed to the Illinois Destrict Export Council by Department of Commerce Secretary Penny Pritzker. Ursula has been an active member of the IL DEC for years, serving as a noted resource for IL exporters.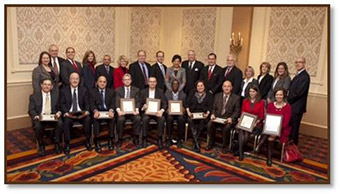 A trade credit insurance program represents an important investment for your business. By using a specialty trade credit insurance broker, companies can assure that they are receiving the maximum value for their time and investment. Specialty brokers are trained in trade credit and political risk insurance policies and their financing aspects, which are often times as important to the insured as the risk mitigation benefits of the policy.
Some of the benefits a broker offers are:
Educates companies on the credit insurance market, including the carriers and their different philosophies, the product options, and the optimal policy structures; *Ask us about our comparative Insurer Matrix!
Works with the client and their financial institution(s) to meet their respective finance and risk mitigation needs;
Advocates and negotiates on the client's behalf with the various insurance providers;
Provides support to companies throughout the life cycle of the policy with training on policy guidelines and policy management tools;
Assists companies with due diligence, credit analysis, managing buyer/aggregate credit limits, shipment reporting, and potential claim filings; *Order Credit Reports Through TAG!,
An independent broker works directly for the client, and not for the insurance company (eg. general agent). They can solicit and evaluate quotations from multiple credit insurance providers (called "shopping your coverage") to identify the best fit and most economical option for the client. A general agent will provide quotes for his/her company only.
As your broker, we are here to help -- and we offer all of these benefits at NO ADDITIONAL COST to you!! Contact Us today!
We "Do" Domestic
TAG brokers credit insurance coverage on domestic receivables too. You can insure your domestic receivables only - OR - combine your foreign A/R with your domestic A/R to cover your entire portfolio and better manage your payment risks. Comprehensive coverage includes not only credit risk but political risk as well! If you are looking for coverage on your domestic receivables (stand-alone, or in addition to your export receivables), we're happy to discuss the options with you.
For more information, Contact TAG today!
Note to Bankers
TAG specializes at the intersection of finance and risk mitigation. Every member of our team has prior experience in international banking. We are well-versed in the various programs available to support working capital and term financing. Also, if you are including insured A/R in your client's borrowing base, keep in mind that policy compliance is the key to making sure that the insurance is working how you need it to. Talk to us today about what we can do to help so that you and your clients are getting the best protection available. We are also happy to provide in-house trainings on the various insurance products and the options available to support your institution's trade finance activities.
For more information, Contact TAG today!
As always, we value our relationship with you. If we can be of assistance in any way, please let us know.

Kind Regards,

The TAG Team
Curt, Leslie, Ursula, Jackie and Sara

We appreciate your feedback! Please let us know what you think. If you have ideas for content you'd like to see in future issues, do let us know. Remember, "We Work for You!"